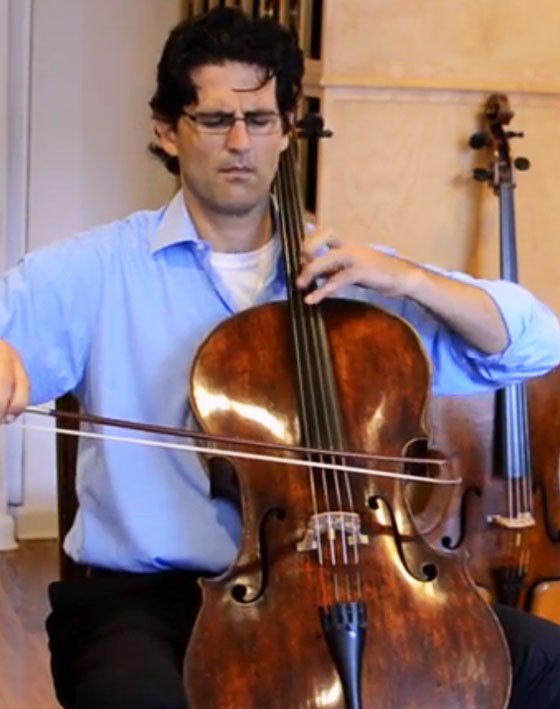 "I met Mrs Marta Casals Istomin and the historic 1733 Matteo Goffriller cello of her late husband, Pablo Casals in 2012. The idea of seeing that instrument up close was hard for me to grasp. How could I, a simple man, son of farmer's from a tiny kibbutz in Israel, hold now the instrument that helped Casals redefine cello history?
This cello made the journey with the maestro from Spain into world fame. All the major recordings of Casals were created with this instrument, and so many musicians have grown up, and been shaped musically, listening to that sound. There were simply no words!
I was shaking when the door was opened and Marta handed the case to me. Should I open it myself? What if it breaks when I touch it? The cello was calmly asleep when I took it over, as if an old man was peacefully enjoying a deep rest. Moreover, I couldn't resist the strong smell of Casals's famous pipe emerging from the cello as I settled down to play the first notes.
My dream had come true; I was playing the most famous instrument in the world right here, right now and all I could think about was my mother being so far away in Israel, not able to see, hear and appreciate it with me. Imagining her eyes and warm touch, I dove into Dvorák's Cello Concerto and woke up playing the last notes of Bloch's Prayer From Jewish Life, hearing Marta's approving, 'Now that was something!'
I had to find a way not to disturb the cello's own voice, and to allow its natural tone to blossom. The instrument started suggesting to me different colours and I was amazed by the palette of possibilities. This was like stepping into a museum, where one observes beauty by acknowledging rather than creating it. A magical voice is planted into that magnificent Goffriller and I was so blessed to have a personal conversation with it.
A couple of weeks later, while on tour in Germany, I received an email from Mrs. Casals Istomin, announcing that she would lend me the Casals cello. Dreams can come true and our life is re-energised by them. I have always fantasised about simply seeing the Casals cello and here I am able to play it."
Watch a video of Amit Peled playing Pablo Casals's Goffriller cello in New York to the maestro's widow, Mrs Marta Casals Istomin, and restorer Julie Reed:
The instrument that Pablo Casals played on was a cello made by Matteo Grofriller and carries a label of Carlo Bergonzi, 1755. Maestro Casals purchased it in Paris around 1908.
"It is one of the most beautiful instruments made by Matteo Grofriller….I have never found a cello which suited my hands better."
Casals played on this cello almost exclusively during his life until his death in 1973. He referred to the cello as his "oldest friend".