Musical Roots: Gustavo Tavares Returns to Natal
Sunday 25th September 2022 | 5.00pm – 6.00pm
Presented in collaboration with Federal University of Rio Grande do Norte, Brasil – UFRN
THIS IS A FREE EVENT TO BOTH MEMBERS AND NON-MEMBERS, BUT YOU MUST SIGN UP TO RECEIVE THE VIEWING LINK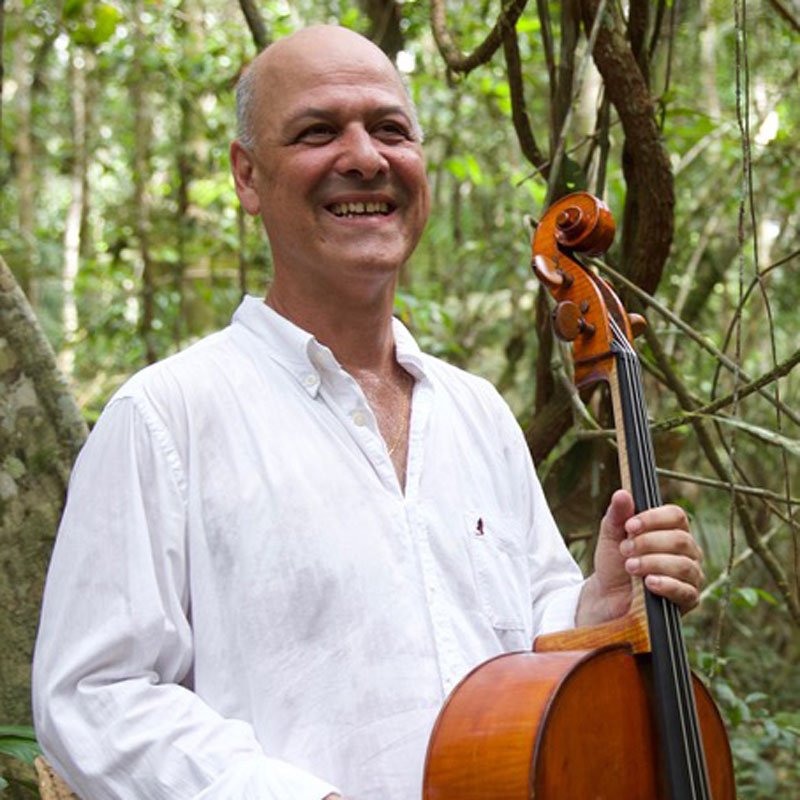 Gustavo Tavares, distinguished Brazilian cellist, reunites with the city of his musical forefathers for his 60th birthday celebration year, in a programme of his own music, music of his native country and other works for cello ensemble.
A winner of the prestigious "Brazilian International Press Award", Gustavo Tavares has been described as "one of the most important Brazilian names in contemporary classical music" (Correio Braziliense).
He is Doctor of Musical Arts, and is acknowledged as a versatile musician, known not only as cellist but also as composer, arranger and educator. He has performed in many countries in Europe, Asia, Africa and the Americas, playing in some of the most famous prestigious festivals and concert venues in the world, such as the Kennedy Center in Washington, Carnegie Hall in New York, Ludwigsburger Schlossfestspiele and Rheingaufestspiele in Germany, the UNESCO hall in Paris, Sala Puccini in Milan, the Quirinale Palace in Rome, Miami Festival, Royal Academy of Music in London, the Nehru Park in New Dehli, Lisinski Hall of Zagreb, and Sala Bellas Artes in Puerto Rico. Programs for radio and television include concerts transmitted by the American National Public Radio in Washington DC, New York WQXR, Slovenia's national Radio and TV (RTV), Croatia National Broadcast (HRT), ETV Sri Lanka, Norwegian NRK, and Italian RAI.
In 1995, he created the ensemble "Triangulo" together with Paquito d'Rivera and Pablo Zinger, which, according to the American critic C.Berg helped "redefine the basic assumptions of chamber music. " The group recorded several CDs, one of them reaching finalist for the Grammy Award for "Best Crossover Record", and yet another being listed as "Record of the Year" by the Brazilian newspaper "O Estado de São Paulo".
Gustavo Tavares was a student of Antonio Janigro at the Musikhochschule in Stuttgart, Germany, where he graduated with highest honours in 1986, and later became Bernard Greenhouse`s teaching assistant, while working towards his doctorate at Rutgers University, USA. Also at Rutgers University, he was for several years "Artist in Residence" at the Center for Latino Arts and Culture.
His compositions and arrangements have been performed and recorded by artists like Yo-Yo Ma, the Cello Ensemble of Venice, the Lincoln Center Chamber Music Society, and the Sebastian Quartet, to name a few. He made several arrangements for the CDs "Riberas" by the Buenos Aires Quartet as well as for "Obrigado Brazil – Live" by Yo-Yo Ma, and both productions were awarded the Latin Grammy. His work "Egum" has been recently premiered at the "La Fenice" theatre in Venice, Italy. A string quintet with 2 cellos has also been newly performed for the first time at the Chamber Music Series of the Norwegian National Opera.
He collaborates often with musicians within a variety of musical genres, as well as with dancers, writers and visual artists, and he is author of the book "Brazilian music for cello and guitar: on the corner of the classical and the popular", written in co-authorship with Brazilian jazz guitar player, Nelson Faria. He has served as jury member at prestigious contests such as the International Cello Competition Antonio Janigro, and the Rudolf Matz Competition. As a teacher, he has had contact with talented young musicians not only as guest professor in recognised conservatories and festivals but also through projects at less favoured areas in Africa, Asia and the Americas.
Among recent activities, a new solo CD soon to be released, and a project in collaboration with Brazil's "Sustainable Amazonas Foundation" which has already lead to 2 tours along some of the rivers in the Amazonas Basin, performing for the local population at parks and reservations. This collaboration, which will also includes a documentary film, is also part of a broader project focused on sound in the natural tropical environment. Other current projects include commissions of new works for festivals both in Italy and Croatia.
Gustavo Tavares has been knighted by the Brazilian Government as "Officer of the Rio Branco Order" in recognition for his contribution to culture, both in Brazil and abroad.
This program is presented in collaboration with the Federal University of Rio Grande do Norte, Brasil – UFRN.
Bach in Colours
Presenter – Ulrich Heinen
Sunday 27th November 2022 | 5.00pm – 6.00pm
Ulrich Heinen's online LCS presentation, Bach in Colours, looks at Bach's Cello Suites from a totally novel perspective. He writes "The Cello Suites are subtitled 'senza basso' (without bass), indicating the unusual fact that there is no separate continuo part. Instead, the bass is an integral part of the composition itself, most of the time defined by the lowest notes of chords and arpeggios. The listener's ear tends to remember these notes from each passage to the next. It subconsciously connects them to create the illusion of a continuous bass voice. However, in some places the bass is entirely missing and left to our imagination. In these incidents the bass voice could be compared to a river, which – in rare and special places – runs mysteriously and invisibly underground." Join us as Uli lifts the lid on an aspect of these works which most cellists will never have considered before!
Ulrich Heinen was born in 1946 in Ittenbach near Bonn, Germany. He studied at the Cologne Conservatoire under Siegfried Palm and at the Juilliard School of Music in New York, USA under Leonard Rose. He won several national and international competitions: First prize in the Cello Competition of German Musikhochschulen (Frankfurt), the Rostropovich Competition in La Rochelle, France, and the Vittorio Gui Competition in Florence, Italy.
In 1973 he took up the position of principal cello with the Radio Orchestra of Saarbrücken, Germany under the composer-conductor Hans Zender and in the same year became a member of the Czapary String Trio, also in Germany, where he earned an outstanding reputation for the performance of contemporary music.
In 1984 Ulrich Heinen settled in England, following Sir Simon Rattle's invitation to become principal cellist (co-section leader) of the City of Birmingham Symphony Orchestra. His formidable technique and musicianship allowed him to further develop his solo career with numerous recitals, concerto performances and regular appearances as recitalist on BBC Radio 3.
In 1987 he co-founded the Birmingham Contemporary Music Group (BCMG), which subsequently became one of Britain's most important ensembles for contemporary music. He has appeared with BCMG in many festivals in Britain and abroad, both as member of the ensemble and as soloist.
His engagements as soloist include the Spitalfields Festival in London, the Proms, the Aldeburgh Festival, the Triennale Festival in Cologne and the Salzburg Festival. He has recorded Mozart's Concerto for Violin, Viola and Cello (fragment) for Decca and Mark-Anthony Turnage's Kai , under Sir Simon Rattle, for EMI, and has completed no less than three recorded surveys of the Bach Cello Suites.
Piatti and the Opera
Presenters – Adrian Bradbury & Michael Jameson
Sunday 25th June 2023 | 5.00pm – 6.00pm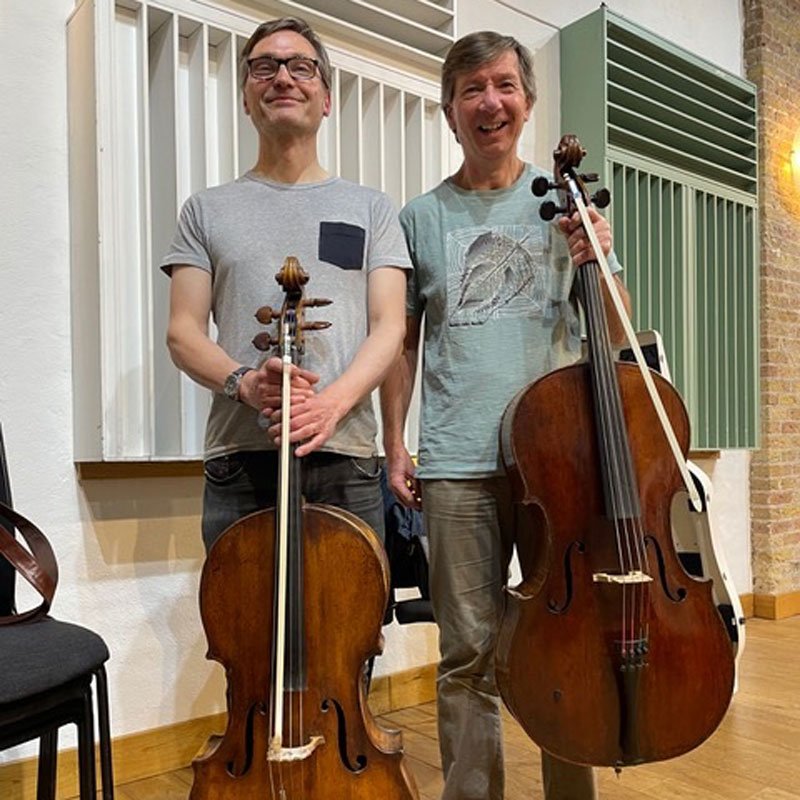 Most cellists are familiar with Alfredo Piatti's studies and in particular, his 12 Caprices, Opus 25, yet surprisingly, given their high quality, most of Piatti's compositions remain largely obscure, and are seldom heard in recital programmes or on disc. But the composition of occasional pieces, and in particular, of operatic transcriptions was de rigueur for practically every 19th century virtuoso, as the example of Franz Liszt powerfully affirms. Indeed, it was Liszt's example which probably inspired Piatti to compose no fewer than twelve operatic fantasias for cello and piano, beginning with his Introduction and Variations on a Theme from Donizetti's Lucia di Lammermoor, Opus 2.
Co-presenters Adrian Bradbury and Michael Jameson will explore these delightful and compelling works, and share insights on their often hugely challenging technical demands, as well as discussing Piatti's life and career, and his enduring influence on contemporary cello playing.
Adrian Bradbury has made two CD recordings of these works with the pianist Oliver Davies, and was granted unique access to the Piatti archives held at the Biblioteca Musicale Gaetano Donizetti in Bergamo, where the great cellist was born in 1822. Adrian was principal cello in the National Youth Orchestra of Great Britain before winning scholarships to Churchill College, Cambridge (where he read Veterinary Science and Music) and then to the Royal Academy of Music. After further study in Berlin he developed an international career in chamber music as the cellist in Composers Ensemble (winners of the Royal Philharmonic Society Chamber Award, 2002), Jane's Minstrels, Trio Gemelli, Touchwood Piano Quartet and Chamber Domaine, giving world premieres of solos, duos, trios and quartets by Thomas Adès, Judith Bingham, Tansy Davies, Dai Fujikura, Hugh Wood and John Woolrich. Adrian is a regular guest principal player with orchestras including London Sinfonietta, Royal Philharmonic Orchestra, BBC Scottish Symphony Orchestra, Ulster Orchestra, Bournemouth Symphony Orchestra, English National Opera and Welsh National Opera and is Cello Tutor for the National Youth Orchestra of GB.
Michael Jameson freelances with orchestras in the UK and Europe, and has worked with many of the world's leading conductors and soloists. He was cellist of the Wessex String Quartet, based at the University of Southampton, and also played in the USA in the Colorado Festival Orchestra. An acknowledged author and critic, he was the youngest writer ever to contribute to Gramophone magazine, and has written well over 800 CD booklet notes, and has also broadcast on BBC Radio 3's Record Review. In addition to his regular orchestral engagements, Michael also works for the fine instrument dealers J & A Beare Ltd, where he is responsible for maintaining and playing on many of the world's finest cellos.