Launch Event – Great Cellists on Film
with Michael Jameson, Presenter
Sunday 14th June 2020 – 5.00PM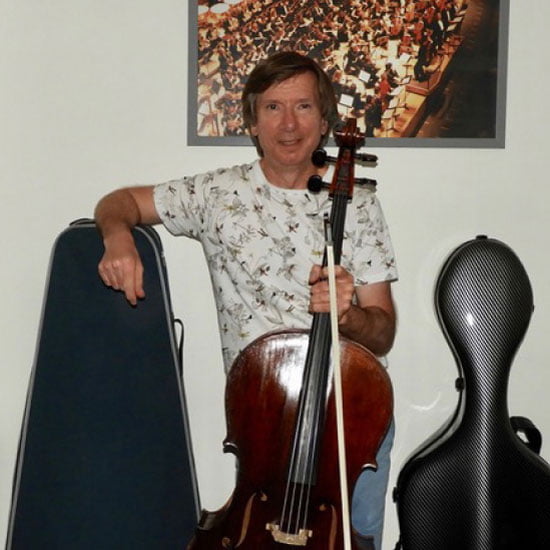 The inaugural presentation in the London Cello Society's pioneering series of online events features LCS Board member and cellist Michael Jameson, in the first of what promises to be an engaging, innovative, and informative calendar of virtual events to be hosted on the Zoom platform.
This presentation, approximately 75 minutes in duration, will profile some of the giants of 20th Century cello-playing through the medium of film, in excerpts and complete performances. The audio and most of the video content has been digitally reprocessed by Michael, and will provide good sound quality through computer speakers or headphones, despite the fact that much of this priceless historical footage pre-dates modern audio-visual recording technology, in some cases by many decades. The presentation also features live supporting commentary introducing each artist with biographical details and career highlights.
The roster of featured cellists encompasses undisputed giants of the art of cello-playing – Casals, Feuermann, Piatigorsky, Shafran, Starker, Fournier, Gendron, Rostropovich, Du Pré, Bylsma, and others. This LCS curtain-raiser promises unique insights into the artistry of some of the greatest cellists in history – we hope you will be able to join us!
A freelance orchestral cellist, Michael Jameson has worked with many UK orchestras, and with famous conductors and soloists including Sir Simon Rattle, Vladimir Ashkenazy, Mariss Jansons, Marin Alsop, Paul Tortelier, Alfred Brendel, and others. As soloist with community and youth orchestras, he has recently performed both Haydn concertos, Tchaikovsky's Rococo Variations, and Shostakovich's 1st cello concerto. He was also cellist of the Wessex String Quartet. Michael was the youngest ever contributor to Gramophone magazine, and also appeared on BBC Radio 3's Record Review. He also collaborated with the 12 cellists of the Berlin Philharmonic on their series of recordings for EMI Classics. He plays on cellos by Joseph Panormo and John Betts, and uses bows by Hill, Simon, Durschmidt and Derek Wilson.
The Great LCS Cello Quiz
with Rebecca Gilliver, Principal Cello of the London Symphony Orchestra
Sunday 13th September 2020 – 5.00PM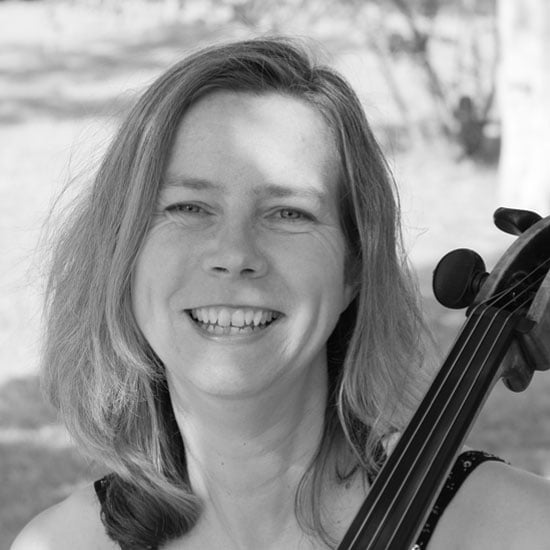 Join LSO principal cellist Rebecca Gilliver for an evening of cello quiz fun! Interspersed with clips of cellists that Rebecca has found inspiring during these drought months with no concerts, the evening should challenge your cello knowledge, inspire you and hopefully make you laugh!
Rebecca Gilliver is the principal cellist at the London Symphony Orchestra and a Professor at the Guildhall School of Music and Drama. She joined the LSO in 2001 as co-principal, then progressed to the principal chair in 2009. She has been lucky enough to work with conductors such as Sir Colin Davis, Valery Gergiev and Sir Simon Rattle.
Rebecca studied with Melissa Phelps at the Yehudi Menuhin School, Moray Welsh and Ralph Kirshbaum at the RNCM and spent a year studying mostly contemporary music with Thomas Demenga in Basel. Early success in national and international competitions led to critically acclaimed debut recitals at the Wigmore Hall in London and Carnegie Hall, New York. Rebecca has played concertos with the Halle and the Academy of Saint Martin in the Fields and participated in festivals such as Bath, Bergen and the Manchester International Cello Festival. A keen chamber musician, she has played with the Nash Ensemble, collaborated with artists such as Nikolai Znaider, Sarah Chang and Roger Vignoles and is a regular attendee at the renowned ISM Prussia Cove, a chamber music festival in Cornwall.
As a teacher, Rebecca has coached at Alpine Kammermusik, a chamber music course for students and amateurs, the Aboyne Cello Festival, Pro Corda and The Music Academy of the West in Santa Barbara. Rebecca recently set up her own cello course, The Dorset Cello Classes, for advanced students and adult learners.
She plays on a Rogeri cello from 1695.
Two Cellos …. under One Roof
with Tim Gill and Joely Koos
Sunday 11th October 2020 – 5.00PM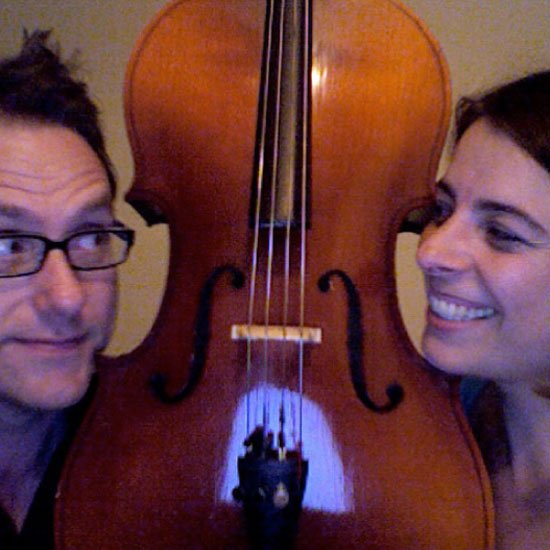 What happens when two cellists (maybe three!) are trapped under one roof during lockdown?
To find out, join Tim and Joely when they present their fabulous feast of cello duets written for cellists by cellists – from the luxuriant via the funky to the downright anti-establishment.
This unique concert features no less than three world premieres – two exciting new works by Philip Sheppard and Theo Gill, and a new arrangement of a stunning Zoe Martlew piece. In addition, during lockdown, Roderick Williams sent Tim and Joely a fabulous gift via email of a new duet which they are thrilled to perform.
Be prepared to be drawn in to the far out whacky world of Kagel's' "Match" and relax to some gorgeous golden oldies.
Programme
Offenbach – Scherzo in D. op 52 no 2
Roderick Williams – Sonatina – Finale
J S Bach (arr. Bunting) – Bourrée in C
Kagel – Match
Zoe Martlew arr. Koos – Berceuse (for cello trio)
Theo Gill – Jubilate Brittanica (cello trio)
Philip Sheppard – Three Partitas
Bacharach (arr. Koos) – The Look of Love
PHILIP SHEPPARD
philipsheppard.bandcamp.com
www.philipsheppard.com/about
ZOE MARTLEW
ALL PROCEEDS FROM THIS EVENT WILL GO TOWARDS HELP MUSICIANS UK
Playing with Presence
with Nick Trygstad, Principal Cello of the Hallé Orchestra
Sunday 8th November 2020 – 5.00PM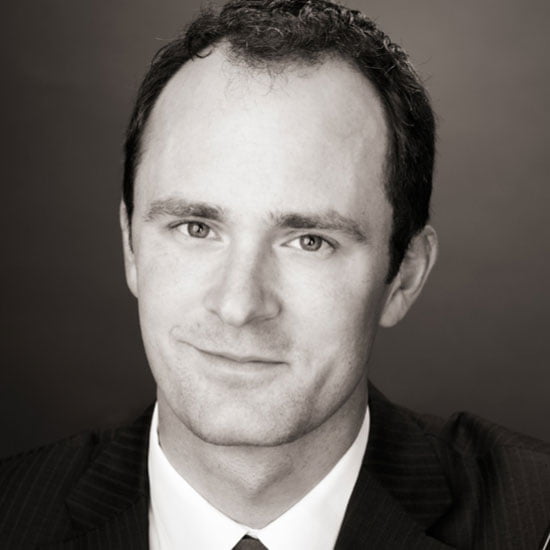 It's a common experience at the end of a performance to only be able to list everything we felt we did badly. Often that judgemental voice is so active while we
perform and practice we don't actually hear anything we have played! We can even mistakenly believe we need to cultivate this judgemental mindset in order to improve.
In this online seminar Nick will discuss how cello practice, like meditation practice, can be another way to explore mindfulness and presence. By developing awareness through our practice we can listen more deeply to sound, enjoy the physicality of playing, and make progress with greater ease and enjoyment.
Born into a musical family, Nicholas Trygstad began cello lessons at the age of four in Minnesota, USA. In his teenage years he studied with Peter Howard, Principal Cellist of the Saint Paul Chamber Orchestra, who inspired him to pursue the cello professionally.
In 1998 he came to a England to study with Hannah Roberts and Ralph Kirshbaum at the Royal Northern College of Music. While at the RNCM he received many awards both within the UK and America, most notably the Bronze Medal in the London Symphony Orchestra scholarship competition, and the Gold Medal from the RNCM.
Having previously been principal cello with Scottish Opera, Nicholas Trygstad became principal cellist of the Hallé in 2005. A passionate educator, Nick has taught and led workshops for many years at the Royal Northern College of Music and is delighted to work regularly with NYO and NYO Inspire.
Basics of Improvisation for Musicians
with Shirley Smart, Head of Beyond Cello Division
Sunday 10th January 2021 – 5.00PM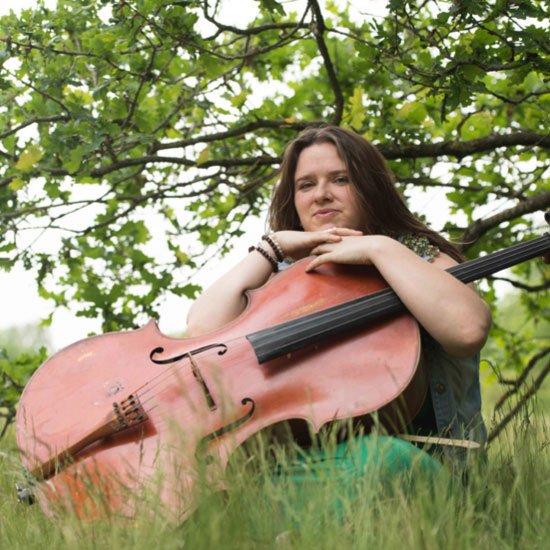 Shirley Smart is one of the most engaging and stimulating explorers of the art of improvisation in many genres—jazz, North African music, Arabic, Hebraic and Gypsy music. Her classes are always great fun and challenging at the same time. She will present an hour of techniques designed to open your horizons and extend your boundaries.
Shirley Smart is recognised as one of the UK's most versatile and creative cellists – being equally at home and well versed in jazz and Middle Eastern music, as well as classical music.
Originally trained under Raphael Wallfisch at the Guildhall School of Music, and Janos Starker in Paris, she subsequently moved to Jerusalem. She remained for 10 years. studying and performing a wide variety of musical traditions from the region, and working with artists including Avishai Cohen, Omer Avital and Yasmin Levy. Since returning to the UK, she has quickly become established as a unique performer, and is in demand with artists such as Mulato Astatke, Maya
Youssef, Neil Cowley, and Robert Mitchell. She also leads her own projects.
Shirley teaches Improvisation and Jazz at the Royal College of Music and City University, and is a visiting tutor for the National Youth Jazz Collective.
Breathe, Twist, Spiral and Flow: An exploration of balance and freedom of movement in singing the cello
with Felicity Vincent, Pilates and movement expert
Sunday 21st March 2021 – 5.00PM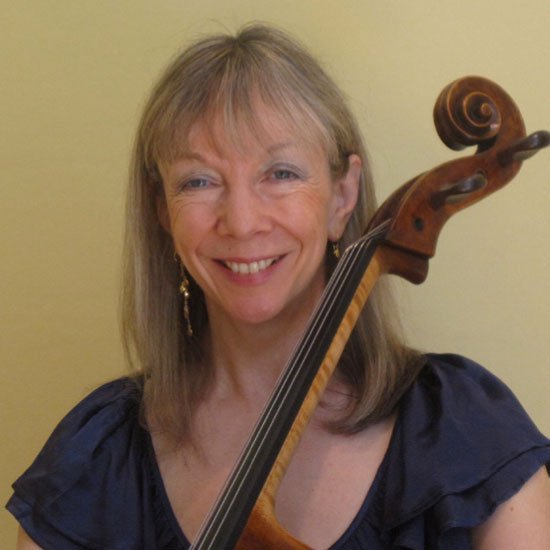 Upright movement is vital to our enjoyment of life. Maintaining strength, flexibility and awareness of our lower body is both part of cello playing and staying healthy whatever your size and shape. I will introduce you to your feet, and we will travel upwards meeting the pelvis, the lumbar spine, ribs and diaphragm before connecting to the accepted cello playing bits.
There are many online exercise classes during lockdown. Feldenkrais, T'ai Chi, Yoga, Pilates. See what grabs you. You can simply walk briskly swinging your arms – swing them up too, and roll around on a mat on the floor. Wiggle your toes! Explore!
Keep moving, keep playing, and see you in the spring!
After studies with Muriel Taylor at the RAM Felicity Vincent joined Barbirolli's Hallé at 21. A car door finger injury altered her life plans but her journey with music in search of cello- playing knowledge continued. She was encouraged in this by Janos Starker at Indiana University and has played in the Toronto Symphony and Israel Philharmonic. In love with chamber music, she has performed many obscure corners of the cello and piano literature as well as most of the staples.
Felicity qualified as a Pilates instructor in 2000 in order to discover why the exercise helped her playing. She qualified as a sports and remedial massage therapist with the LSSRM in order to learn more about bodies and has since turned her attention to the role of fascia (nerve-ending rich soft tissue) as a strong, stretchy trainable part of our anatomy.
Great Cellos – Both seen and heard. Distinguished luthiers in conversation
with Justin Pearson
Sunday 9th May 2021 – 5.00PM
Many of the greatest cellos ever fashioned have equally arresting stories of their owners and their erratic adventures. Justin Pearson shares his enthusiasm and
knowledge of cellos he has "met" first-hand with the luthiers who have looked after these most celebrated instruments when performed upon in Britain over
recent decades. The Mara Strad, which spent some considerable time floating in the River Plate; the Duport Strad, whose owner permitted Napoleon Bonaparte to
handle the cello after giving a concert at the Tuileries Palace – a dent, still visible on the instrument, is said to have resulted from the Emperor's rough handling while straddling the cello with his spurred boots. The magnificent ex-Maurice Eisenberg Montagnana which possesses as much tone as you can physically draw out of the cello, and many more. Join us for a stimulating late afternoon conversation best accompanied by a glass of rare wine.
Justin Pearson is one of London's busiest and most versatile musicians. He is principal cellist and Managing Director /Artistic Director of The National Symphony Orchestra (UK), Guest Principal cellist of the Royal Philharmonic Orchestra. Justin is Artistic Director and Manager of the Locrian Ensemble of London, one of the most sought after, and often-recorded chamber ensembles in Britain. He performs in West End theatre and records scores for both film and television.
www.justinpearsoncello.com
Amateurs & Adult Learner Division
How to Enliven your Practice
with Kim Mackrell, Director of Amateurs and Adult Learners Division
Sunday 22nd November 2020 – 5.00PM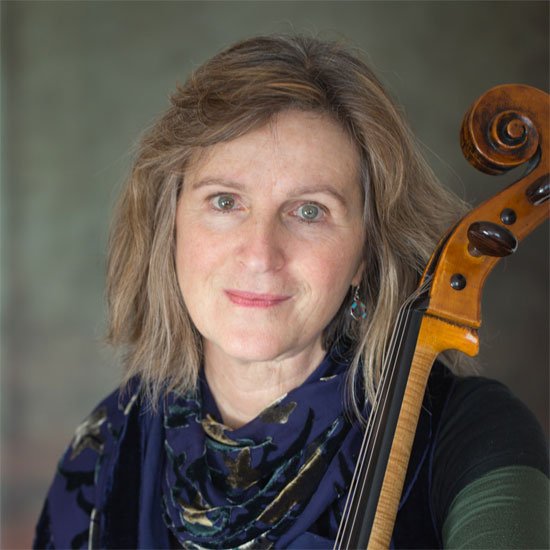 The practise process is probably the most important area of learning an instrument. Regular and well thought out practise goes hand in hand with progress and
enjoyment. In this session we will find our way round the pitfalls and frustrations we have all experienced, and answer any questions that have been gnawing away at you about this vital and surprisingly enjoyable occupation!
Kim Mackrell studied cello at the Guildhall School of Music and Drama with Leonard Steyn, where she won the Guildhall School Cello prize. Work abroad followed, in Bermuda with the Guildhall Quartet, and as principal cellist in the Las Palmas Philharmonic Orchestra. She joined the BBC Philharmonic in Manchester, leaving after six years to freelance with orchestras in the north.
Since returning to London her freelance work has been an eclectic mix of genres; regular LSO concerts and tours; solo cellist with the Kosh Dance/Theatre Company; twenty years with contemporary music group Harmonie Band performing original scores for silent film, taking projects to schools, and giving concerts; twelve years a member of the Solarek Piano Trio; founder of the Pisces String Quartet in 2004.
Her teaching practise began to attract adult amateurs, and through the cello section coaching and group work that followed, Chamber Cellos Courses was formed in 2008 chambercellos.co.uk.
Buffing Up Your 'Cello Practice-An Online Workshop for Young Cellists Gr1-4
with Josh Salter and Thomas Gregory
Sunday 18th October 2020 – 5.00PM – 6.00PM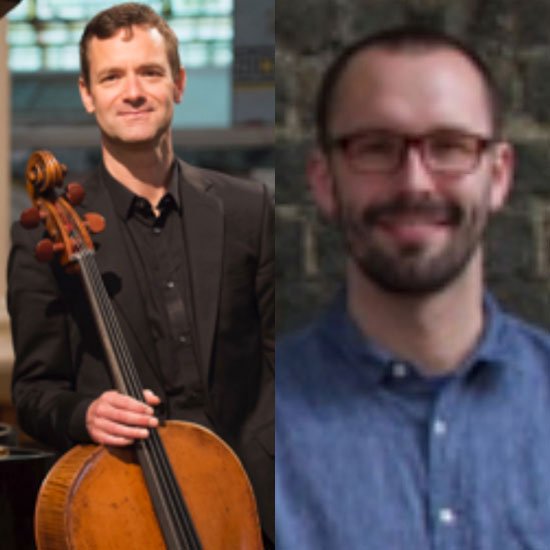 How do we make practice fun and effective? Join us and learn warm ups to get you playing at your peak, strategies for scale success, technique building games and a brand new piece written for the occasion by Thomas Gregory.
This workshop will include a pre-recorded session, and the opportunity to join together on Zoom at the end of the session, when participants can ask Josh and Thomas any questions on the materials covered. Music for the new piece will be made available for participants to practice before the event.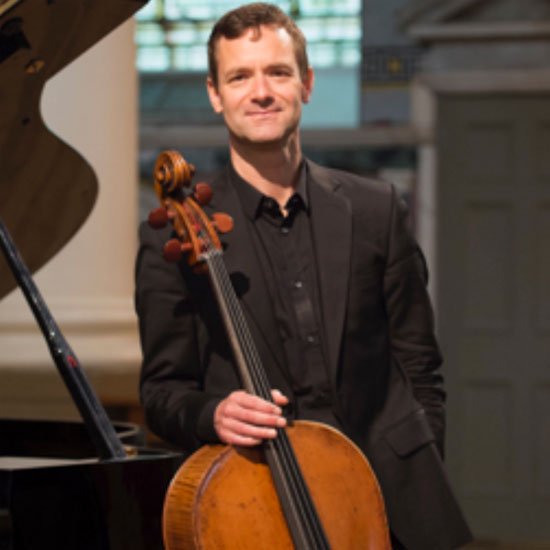 Thomas Gregory is a versatile and imaginative string teacher with considerable experience teaching at all levels. Himself an accomplished cellist, he has pioneereda modern approach to group teaching, harnessing the natural curiosity of children to motivate and take ownership of their learning. Based in London UK, Thomas is currently Head of String for Haringey Music Service, teaches cello at the Centre for Young Musicians and directs various ensembles of all ages including adults. He studied cello at the Guildhall School of Music and Drama and the University of Michigan. He performs regularly as soloist and as a member of the Marmara Piano Trio.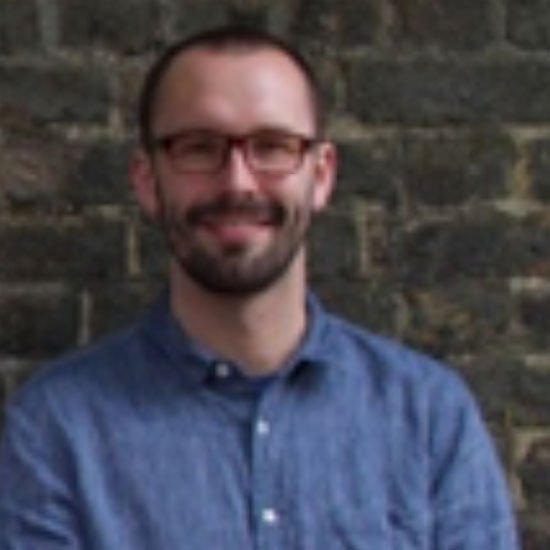 Josh Salter hails from Yorkshire, and now resides in North London, pursuing a varied schedule of performing and teaching. Recent concerts include venues in Beijing, Budapest and Basingstoke with orchestras including City of London Sinfonia, Academy of Ancient Music and Orchestra of the Age of Enlightenment. He teaches for Camden and Haringey Music Services, North Bridge House Prep School, directs the OAE's String Club, and has a large studio of private students. He also coaches the cellos of the London Medical Orchestra, and recently performed the Elgar Cello Concerto with them. His own studies took place at the Royal Northern College of Music and the Royal Academy of Music.
Baroquerie: A Banquet of your Favourites from Bach to Vivaldi
with Angela East of Red Priest
Sunday 24th January 2021 – 5.00PM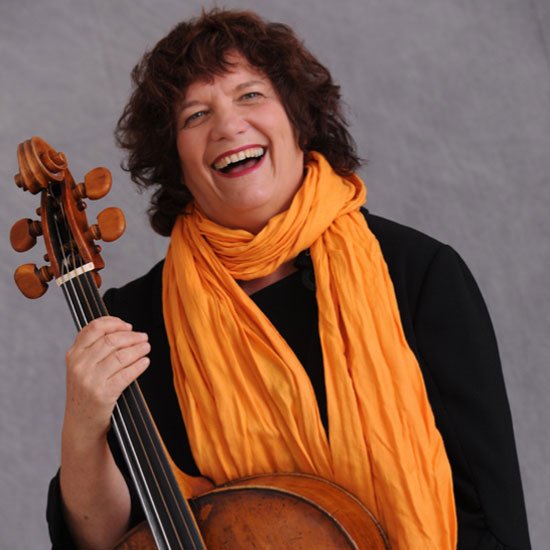 Surprise your examiner with your stylish playing of Baroque repertoire! We will explore a whole range of expressive bowing techniques, ornamentation, dynamics and Baroque features that will help you on your musical journey and provide a valuable palette of colours for your performances. There will be examples from a wide selection of Baroque composers from both the ABRSM and Trinity syllabuses.
Angela East is a founder member of the exciting and innovative ensemble, Red Priest, that has performed worldwide for the last 23 years. This ensemble has provided her with opportunities as a soloist and, with Red Priest Recordings, she has made two solo CDs, one of the Bach Cello Suites and the other, Baroque Cello Illuminations, is a collection of baroque pedagogical works such as those that will be discussed in our workshop.
For years, Angela played as continuo cellist with several of the foremost Baroque orchestras in London, such as the English Baroque Soloists, the Gabrieli Consort and Players and the King's Consort. She was also the principal cellist in the very first performance on original instruments at Glyndebourne with Sir Simon Rattle.
She has participated in over 200 recordings including those of the Rolling Stones, Elton John, Led Zeppelin and Eminem and has written a book about playing the Baroque cello, called Play Baroque!
And….wait for it…. A special hour with Aaron Minsky, the one and only Von Cello!
Tripping Round the World with 10 International Cello Encores (A Preview of Global CelloDay)*
Date of this event to be confirmed in early Spring 2021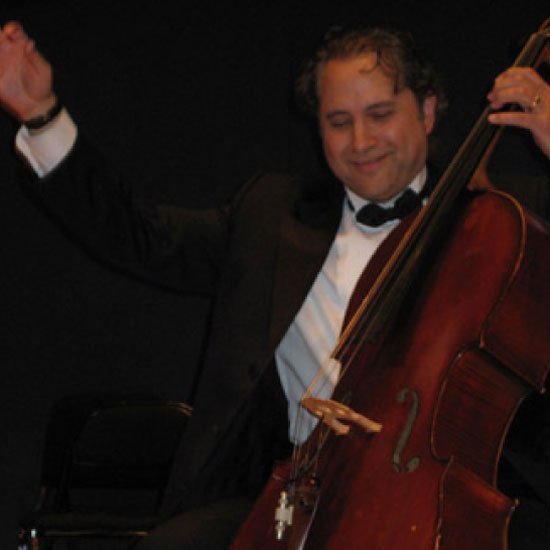 Aaron Minsky will choose four of his International Cello Encores to talk about – how he came to write them and what inspired their varied techniques. Knowing Von Cello, there will be some hot cello playing too!
*Note to Cello Club members: Pending improved circumstances, we hope to re-schedule Global CelloDay on Sunday 18th April 2021.