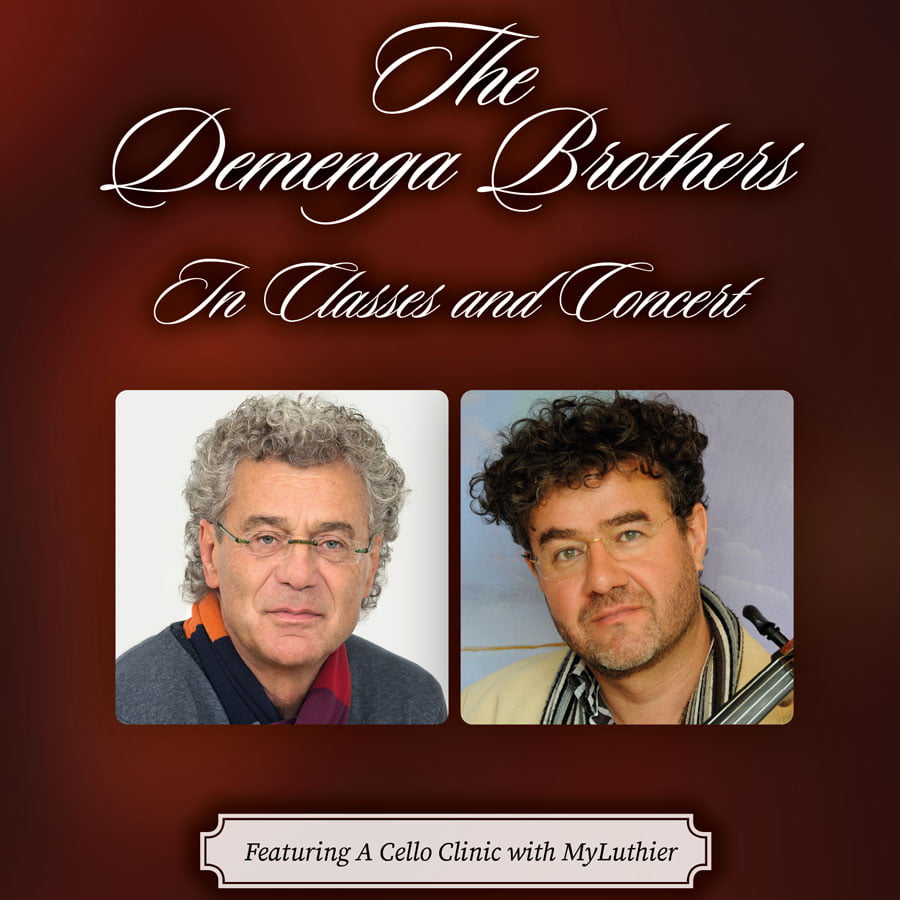 In Classes and Concert
Sunday 18th June, 2023 | 11.00am to 19.45pm
The Duke's Hall | Royal Academy of Music
This event has been rescheduled from the original date of 26th February 2023. All tickets purchased for the original date will be honoured on June 18th at no extra cost.
Those who requested refunds will need to re-book for the new date.
The London Cello Society is thrilled and honoured to present Thomas and Patrick Demenga in an afternoon of classes followed by a concert. For those of us who remember their captivating performances at the Manchester International Cello Festival, this event is not to be missed. Their imaginative programming always includes some old favourites and amusing surprises, and on this occasion the programme will consist of a blend of solo and duo works.
The London Cello Society wishes to thank MyLuthier for their generous sponsorship of this event.
Programme
Jean-Baptiste Barrière: Sonata Nr. X in G – Andante – Adagio – Prestissimo
J. S. Bach: Sarabande Nr. IV in E-flat – Lutoslawski: Sacher Variations for Cello Solo
L. Berio: Les mots sont allés – J.S. Bach: Sarabande Nr. I in G for Cello Solo
Th. Demenga: solo per due for 2 Celli
Handel-Halvorsen: Passacaglia (Transcribed for 2 Celli)
L. van Beethoven: «Duet with two obbligato eyeglasses», WoO 32 (arr. Th. Demenga)
Paganini-Demenga: Variations on a Theme by Rossini from " Moses in Egypt"
Schedule of events
Please note revised timings.
11am – 2pm

A Cello Clinic with My Luthier in the Concert Room: get your instrument
into top shape with a sound adjustment session from an expert luthier, and experience
playing contemporary cellos made by some of the best living makers.
3pm – 5pm
Cello Masterclass with Thomas and Patrick Demenga
5pm

Break for tea
6.30pm
Evening Concert
Adult £30 / £25* Student £18 / £15*
Adult (Concert only) £20 / £16* Student (Concert only) £12 / £9*
*LCS/ Cello Club member
Venue
The Duke's Hall, Royal Academy of Music, Marylebone Road, London NW1 5HT
Venue
The Duke's Hall, Royal Academy of Music, Marylebone Road, London NW1 5HT